Sierra Nevada (with or without) Guide
Routes, Maps & Inspiration for Self Guided Walking & Hiking in Spain's Sierra Nevada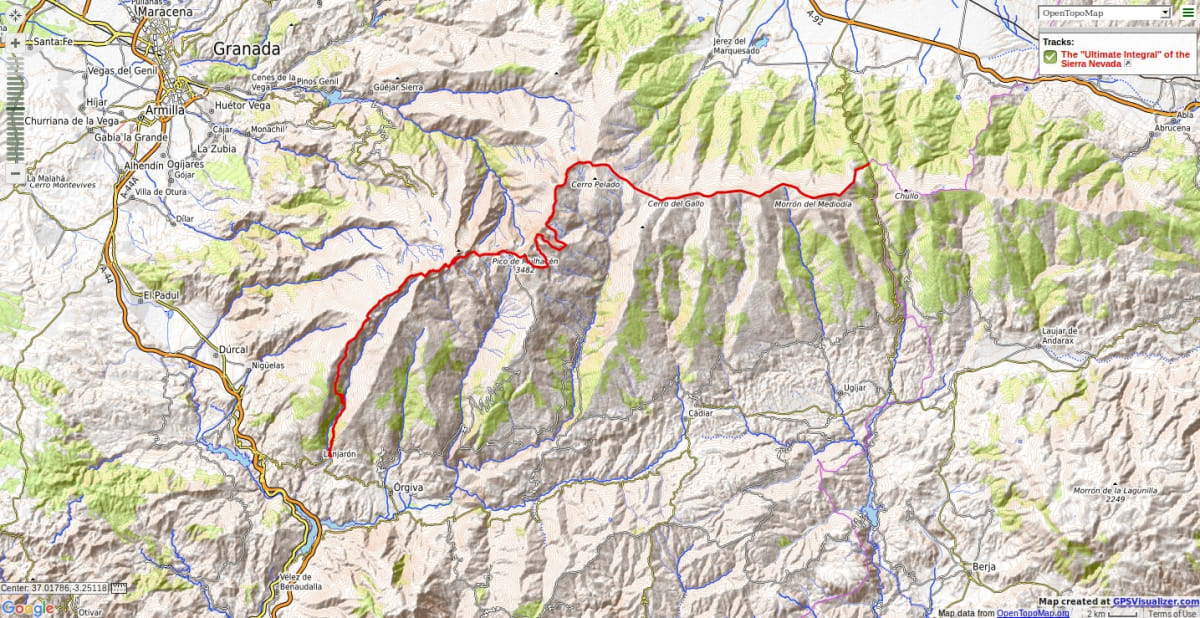 N.B This is an interactive map that opens up in new window
Access: Puerta de la Ragua, Guadix
Start: Puerta de la Ragua
End: Lanjarón, Alpujarras
Warning .. very tough trek! 71km and 3700m ascent over the major mountain peaks of the Sierra Nevada, taking between 5 and 7 days. The "Ultimate Integral"!
Route Description
Long and remote, this tough trek will take normal mortals between 5 and 7 days. Wild camping by lakes and rivers, the trek covers all the major 2500m+ peaks of the Sierra Nevada in one long push. Really only suitable between May and October each year.
N.B Without doubt the hardest, toughest route in this guide!
Start at the Puerta de la Ragua pass above La Calahorra (via Guadix). This 2000m pass gives convenient access from the east onto the initial broad ridges climbing up the initial peaks. Continue west on the main ridge, some water may be found in small streams originating down on the southern slopes, if not then water has to be carried. After the Puntal de Juntillas water sources shouldn't be a major problem on this route which now joins the original (and shorter) "Integral".
Follow the ridges and peaks southwards. This section before Siete Lagunas is the most difficult as there are some big, blocky steps on the ridges to climb or by-pass. The ascent of Alcazaba being the most difficult. The route mapped shows an avoiding traverse way to the east. This is the normal route. If you are feeling up to some harder stuff the you can cut through the crags on Alcazaba's north face, see report here.
Then it's easy going (relatively!) on better tracks until the final knee jarring descent of 2400m to Lanjarón. Don't be tempted to back out and call for the 4Wd backup at this point. After 70km and 3700m of ascent and descent over the toughest terrain in Spain, you need to finish the full thing!
Wild camping suggestions - Laguna de Juntillas, Laguna de Vacares, Laguna de la Calderetas, Rio de Goteron, Laguna Altera, Siete Lagunas, Laguna de la Caldera, Laguna de Rio Chico, Laguna de Aguas Verdes, Laguna de Lanjarón, Laguna de Caballo
N.B Please take note of National Park Rules and Regulations regarding Wild Camping
Recommended map: Parque Nacional de Sierra Nevada 1:40000 www.penebetica.com