Sierra Nevada (with or without) Guide
Routes, Maps & Inspiration for Self Guided Walking & Hiking in Spain's Sierra Nevada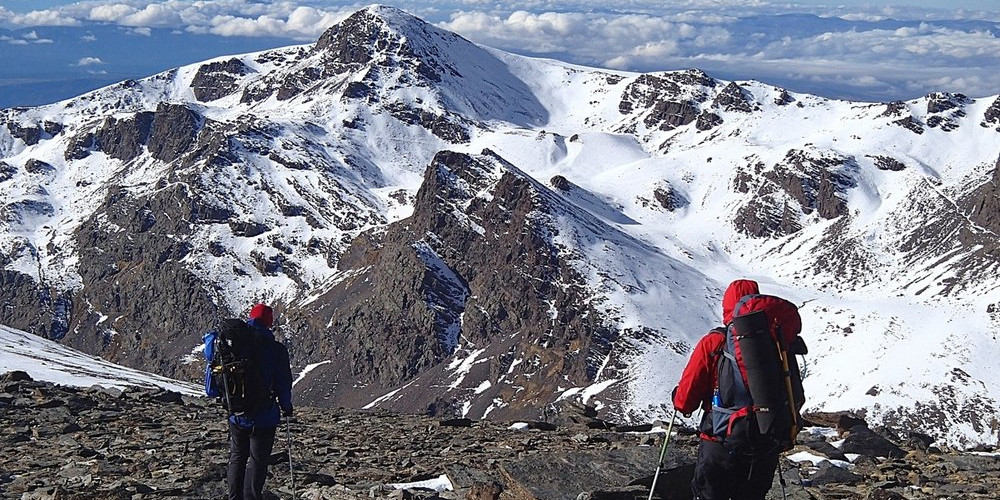 2 day trek from ski area to Capileira via Cerro de Los Machos
Climbs the peak of Cerro de los Machos and crosses the Sierra Nevada to Capileira in the Alpujarras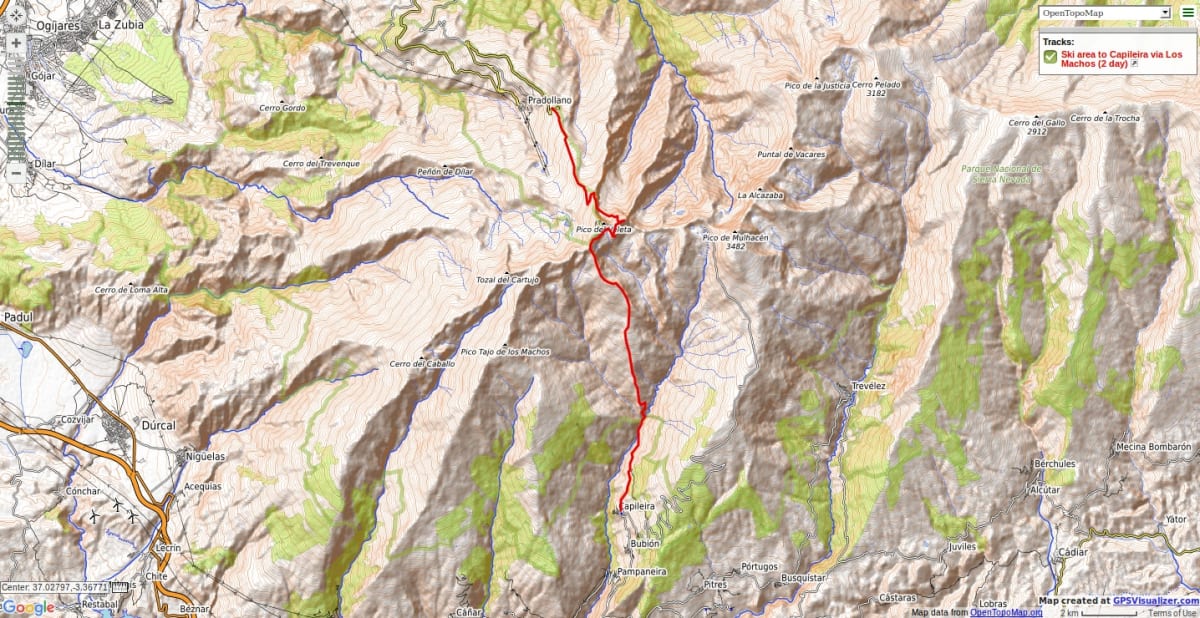 N.B This is an interactive map that opens up in new window
Access: Ski area via Granada. From the main Granada ring road (Circunvalación) follow the well signposted mountain road to Sierra Nevada (A-395). This leads to the main ski resort at Pradollano.
Start: Hoya de la Mora.  At km30 and just before entering the resort turn left following signs to Hoya de la Mora and Albergues de Granada. At km35 and at 2500m altitude, the road ends. There are car parks on either side of the road.
End: Capileira, Alpujarras
Multi day trekking visiting the underrated peak of Cerro de los Machos and crossing the Sierra Nevada to Capileira in the Alpujarras
Route Description
From Hoya de la Mora ascend easy path to Los Posiciones de Veleta. Here you will find the entry into the Corral del Veleta using the Veredon Superior path. This is a little exposed but just a walk. Enter the glacial valley below imposing cliffs. Croos the moraines in the corrie bottom and climb up to the summit of Cerro de los Machos on faint tracks and scree. A wild camp here on the summit makes for superb location for viewing sunset and sunrises.
Then a rocky descent SW to join the old road over the Sierra Nevada. Traverse to the peak of Loma Pua from Collado de Carihuela. Then descend pathless terrain over Pico del Sabinar and down to Cebedilla. Walk along west side of Poqueira valley for quickest return to  Capileira.
Major peaks covered: Cerro de los Machos 3329m, Loma Pua, Pico del Sabinar
Seasonal notes: Not normally possible in winter due to exposed avalanche loaded slopes and difficult terrain of alpine nature.
Options: Longer return after traversing over Loma Pelada 3181m and Puntal de Caldera 3223m camping by the Laguna del Caldera.
N.B Please take note of National Park Rules and Regulations regarding Wild Camping
Interactive map (opens in new window)
Recommended map: Parque Nacional de Sierra Nevada 1:40000 www.penebetica.com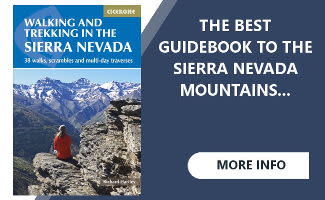 Want some help? Find a guide? CONTACT US
KNOWLEDGE BASE
Mountain database, refuges, altitude sickness, avalanche dangers, equipment lists, gear rental, FAQs etc
Information & resources
The company
Contact us via our Contact Page
info@spanishhighs.co.uk

Spanish Highs Tours Ltd
Company Number 09960909 Registered in England & Wales

Head Office: 41 Axholme Drive, Epworth, DN91EL, North Lincolnshire, UK. Registered Office: 20-22 Wenlock Road, London, N1 7GU, England
© 2019 sierranevada.guide