Sierra Nevada (with or without) Guide
Routes, Maps & Inspiration for Self Guided Walking & Hiking in Spain's Sierra Nevada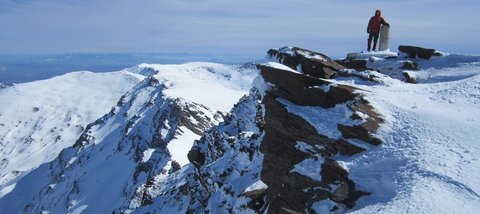 3 day trek "Los Tres Picos", Sierra Nevada
Los Tres Picos trek in Spain's Sierra Nevada mountains staying in the Refugio Poquiera overnight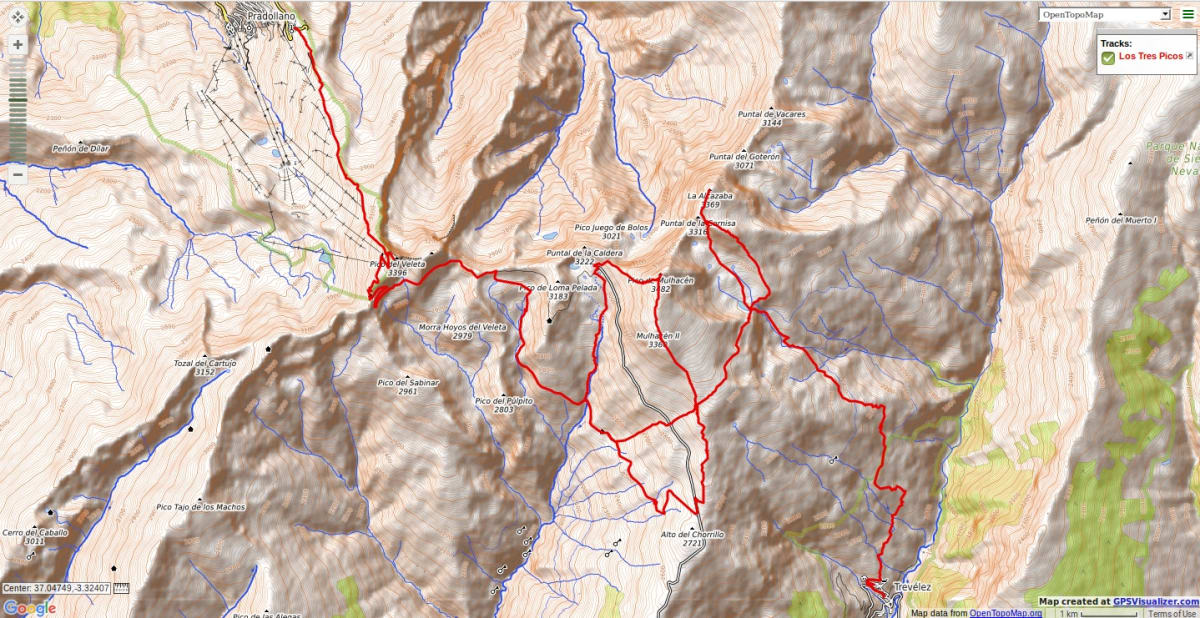 N.B This is an interactive map that opens up in new window
Access: Ski area via Granada. From the main Granada ring road (Circunvalación) follow the well signposted mountain road to Sierra Nevada (A-395). This leads to the main ski resort at Pradollano.
Start: Hoya de la Mora.  At km30 and just before entering the resort turn left following signs to Hoya de la Mora and Albergues de Granada. At km35 and at 2500m altitude, the road ends. There are car parks on either side of the road.
End: Trevelez
Route Description
Day 1 Veleta (3,394m)
Start Hoya de la Mora (2500m). Ascend the north ridge of Veleta (3,398m), the third highest peak in mainland Spain. The going is rough and rocky but the summit is reached after approx a 3 hour trek. There are outstanding views in all directions - especially southwards over the Mediterranean Sea towards Morocco. Heading south from the summit reach the Col de Cariguela and follow good tracks past the Paso de los Machos until you reach the head of the Rio Seco Valley. Drop down and descend trackless slopes before contouring round a headland and reaching the overnight stay at the Refugio Poqueira.
Day 2 Mulhacen (3,482m)
Traverse into the Rio Mulhacen Valley and up to the Laguna de Caldera, set amid a cirque of peaks. Ascend the steep, relentless west flank of Mulhacen (3,482m, the highest peak in mainland Spain). Although steep, no hands are necessary but take it slow and steady as the altitude may have a small effect here. The summit is reached in about 4hrs. It is a great viewpoint and the whole 50km chain of peaks can be seen. Return down the long and gentle south ridge before dropping steeply south west directly down to the Poqueira Refugio.
Day 3 Alcazaba (3,364m)
Early start from the hut. Toughest day today! - Alcazaba is located far to the north of Mulhacen. Easily to the Alta del Chorrillo then up the south ridge of Mulhacen. At 3100m traverse eastern slopes to Siete Lagunas, a beautiful, tranquil spot consisting of 7 lakes in a dramatic mountain setting. Water available here. Climb to the valley head and take a steep scree gully between impossible looking cliffs. In reality it is just a steep walk and there is very little simple scrambling involved. Arrive at the summit plateau and hence to the summit of Alcazaba (The Fortress). Return down the SE flank and through a small pass to Siete Lagunas for onward decent to Trevelez.
Recommended map: Parque Nacional de Sierra Nevada 1:40000 www.penebetica.com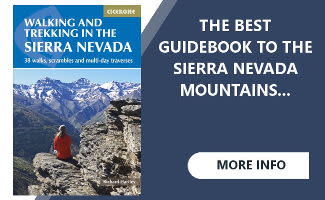 Want some help? Find a guide? CONTACT US
KNOWLEDGE BASE
Mountain database, refuges, altitude sickness, avalanche dangers, equipment lists, gear rental, FAQs etc
Information & resources
The company
Contact us via our Contact Page
info@spanishhighs.co.uk

Spanish Highs Tours Ltd
Company Number 09960909 Registered in England & Wales

Head Office: 41 Axholme Drive, Epworth, DN91EL, North Lincolnshire, UK. Registered Office: 20-22 Wenlock Road, London, N1 7GU, England
© 2019 sierranevada.guide