Sierra Nevada (with or without) Guide
Routes, Maps & Inspiration for Self Guided Walking & Hiking in Spain's Sierra Nevada
Linear ridge walk above Niguelas, Cerro Caballo, Sierra Nevada
Linear 1 or 2 day trek in the western Sierra Nevada with remote mountain lakes and over high peaks and ridges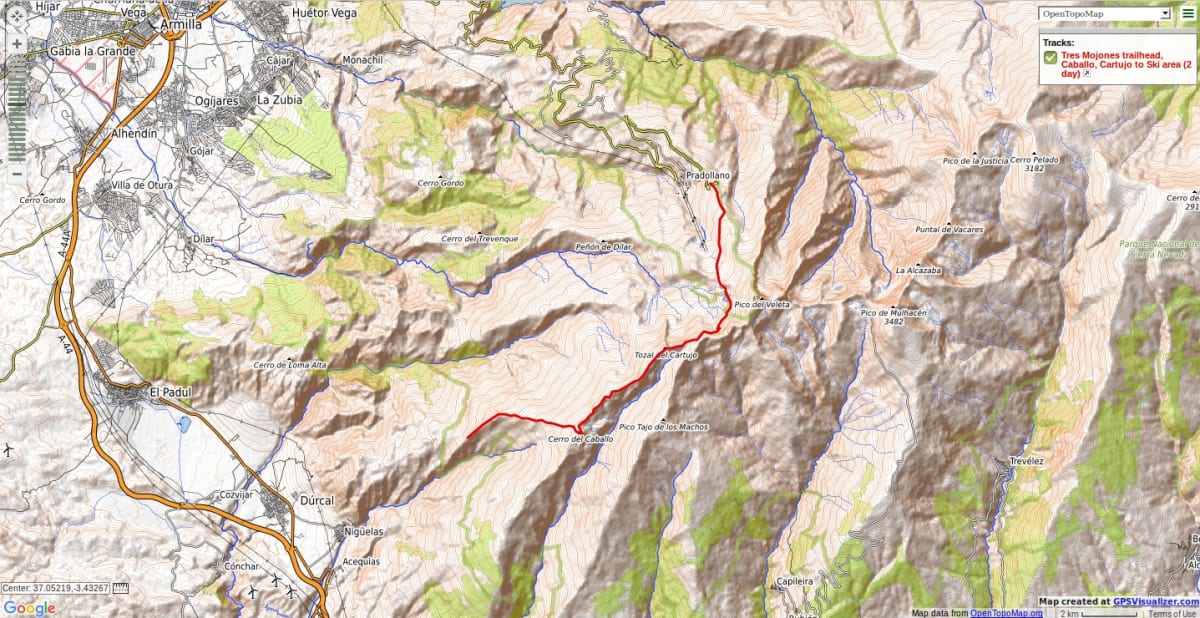 N.B This is an interactive map that opens up in new window
Access: Nigüelas. The village of Nigüelas (925m) lies just off the main A-44 motorway between Granada and Motril. A series of dirt tracks leads above the village which is especially useful for access to the western Sierra Nevada
Start: Mirador de Rinconada. Make your way through the village and cross the river. Turn L. The rough track leads up the valley with impressive rock scenery for 2km before crossing a ford. Then it is a series of steep zigzags before the road levels at the Loma del Perro (1700m, 30 mins). Continue up the Loma, the track circumventing the low hills until you emerge on a plateau just before the Cortijos de Echevarria (1900m, 45 mins). Take the R fork which zig zags up to the Mirador in 5 minutes. 4WD recommended
End: Hoya de la Mora, Ski area
Route Description
High trailhead, gentle ascent to Cerro de Caballo via the ridge of Tres Mojones. Pleasant ridge on faint tracks to to Tajos Altos and onto Pico del Cartujo. Continue on the ridge with small steps until the track to the Refugio Elorrieta is met. Drop down via the small lakes of Lagunillas and hence to the Hoya de la Mora.
Major peaks covered: Cerro de Caballo 3005m, Tajos Altos 2985m, Pico del Cartujo 3152m
Seasonal notes: Generally easy winter walking in good snow conditions. The mountain flank to the Elorietta may not be possible under snow as it is an avalanche blackspot.
Options: Instead of the high ridge we can take the slightly easier Verada Cortado at a lower level. This traverses impressive rock scenery and beautiful lakeside camping locations.
N.B Please take note of National Park Rules and Regulations regarding Wild Camping
Interactive map (opens in new window)
Recommended map: Parque Nacional de Sierra Nevada 1:40000 www.penebetica.com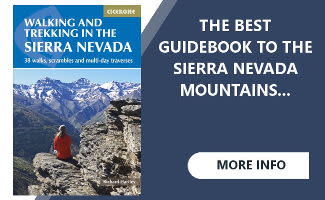 Want some help? Find a guide? CONTACT US
KNOWLEDGE BASE
Mountain database, refuges, altitude sickness, avalanche dangers, equipment lists, gear rental, FAQs etc
Information & resources
The company
Contact us via our Contact Page
info@spanishhighs.co.uk

Spanish Highs Tours Ltd
Company Number 09960909 Registered in England & Wales

Head Office: 41 Axholme Drive, Epworth, DN91EL, North Lincolnshire, UK. Registered Office: 20-22 Wenlock Road, London, N1 7GU, England
© 2019 sierranevada.guide