Sierra Nevada (with or without) Guide
Routes, Maps & Inspiration for Self Guided Walking & Hiking in Spain's Sierra Nevada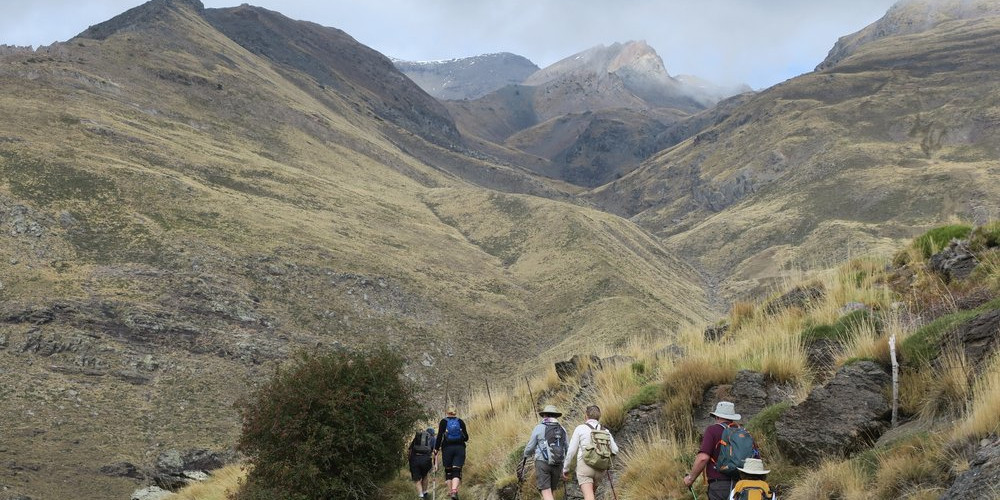 Round of the Barranco de Poqueira, Capileira
A circular walking tour of the dramatic and not to be missed, Poqueira gorge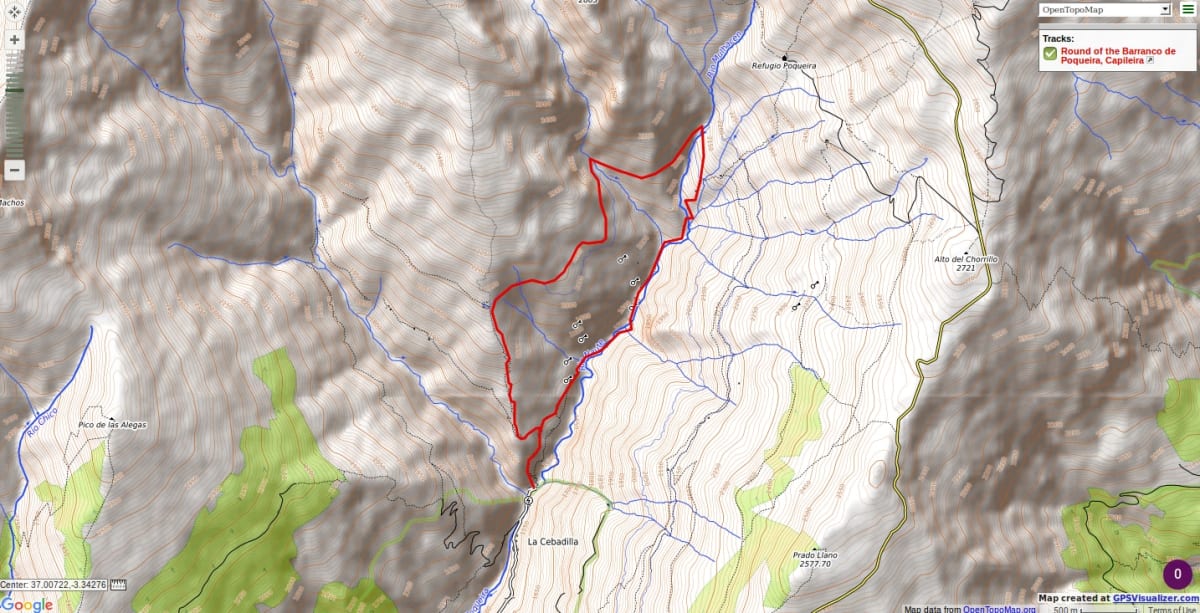 N.B This is an interactive map that opens up in new window
Access: Capileira, Alpujarras
Start: Cebadilla. Keep on the main road through Capileira. After 3km turn L, signposted "Cebedilla". The road deteriorates but is normally suitable for cars if care is taken. The track drops down to reach the ruined buildings at La Cebedilla. Cars may be left here or a 400m further on at the Central Electrico de Poqueira at 1500m (8km, 20 mins)
End: Same as start
Route Description
There is a short, steep climb on good tracks after leaving Cebedilla, before dropping down to the valley bottom and following the path as it winds its way up and alongside the river. A short rise to the acequia before Cortijo Tomas where you turn left and follow the irrigation channel towards the river. A gradually ascending line above the channel by-pass some awkward vegetation.
Cross the river and follow the track as it passes through a cliff barrier. There is a short section where a cable assists progress. The path continues in glorious scenery on the western side of the valley, high above the river. At the old Hydro station follow the path down to join the main path you ascended on, some 15 minutes way from Cebedilla start point.
The scenery is wild and mostly accompanied by the rushing waters of the river. There are some short, steep gradients involved.
The walk can be extended 3hrs by starting and finishing in the village of Capileira, ascending the east bank of the Rio Poqueira and descending the west.
Recommended map: Parque Nacional de Sierra Nevada 1:40000 www.penebetica.com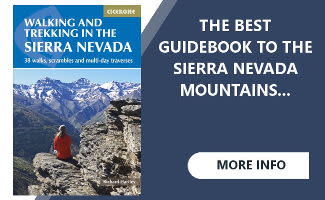 Want some help? Find a guide? CONTACT US
KNOWLEDGE BASE
Mountain database, refuges, altitude sickness, avalanche dangers, equipment lists, gear rental, FAQs etc
Information & resources
The company
Contact us via our Contact Page
info@spanishhighs.co.uk

Spanish Highs Tours Ltd
Company Number 09960909 Registered in England & Wales

Head Office: 41 Axholme Drive, Epworth, DN91EL, North Lincolnshire, UK. Registered Office: 20-22 Wenlock Road, London, N1 7GU, England
© 2019 sierranevada.guide