Sierra Nevada (with or without) Guide
Routes, Maps & Inspiration for Self Guided Walking & Hiking in Spain's Sierra Nevada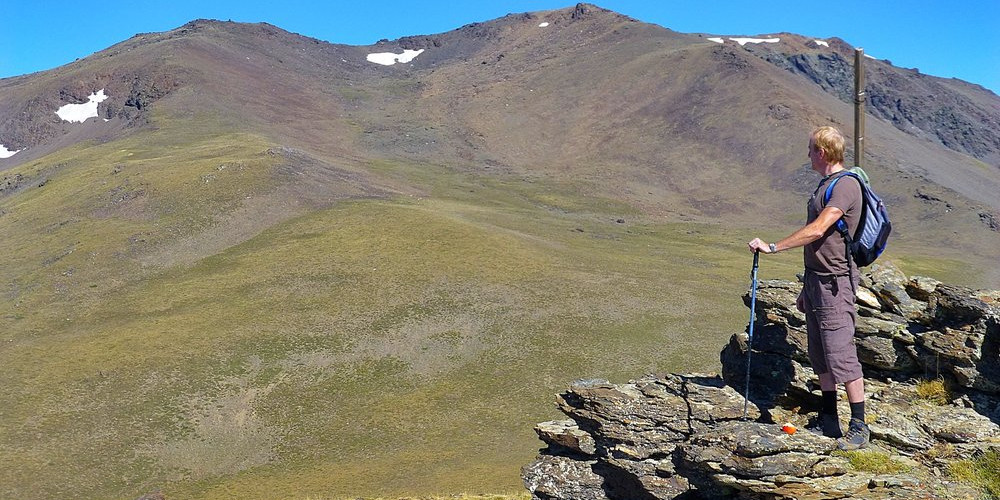 Tajos de los Machos and Cerrillo Redondo from Puente Palo
Tough day or more relaxed 2 day trek staying overnight at the Refugio Cebollar. Takes in two quiet, remote Sierra Nevada 3000m peaks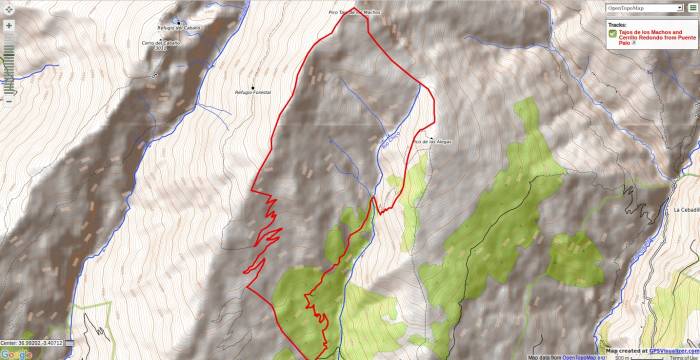 N.B This is an interactive map that opens up in new window
Access: Lanjaron (4WD) or Padre Eterno/Soportujar (saloon car with care)
Start: Puente Palo
End: Same as start
Route Description
Go up the easy forest tracks NW of the main road. Follow the logical and most obvious way ignore the first turning off to the north. At  approx 2000m another track branching off to the right (north) is found. Take this. After 200m it crosses a small stream and continues on a good and obvious track. This reaches the Rio Chico. A delightful spot!
Cross the rio and follow the good path on the opposite bank. Unfortunately we have never been able to follow this is it's entirety as the path peters out. At this point aim for the forest edge left of the rocks directly above you. In 30 mins, at the upper edge of the forest, or so you will meet the main path again which traverses to the Refugio Cebollar (2.5hrs).
A rising traverse on a very old, overgrown and unused drovers trail across from the refuge (marked by some cairns) leads to the ridge just beyond the summit of Las Alegas (2700m). Follow the ridge to the col and then make for the peak of Tajos de los Machos (3085m) directly above.
From Tajos de los Machos it is a fine ridge walk south over Cerrillo Redondo (3055m). Keep on the ridge until near teh rocks of Piedra de los Pajaros where you can aim down and across country towards the forest edge. Follow the fire break down to the main road and car park.
N.B Please take note of National Park Rules and Regulations regarding Wild Camping
Recommended map: Parque Nacional de Sierra Nevada 1:40000 www.penebetica.com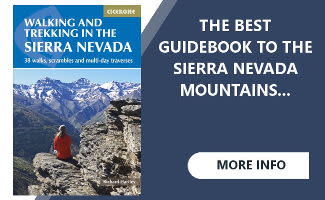 Want some help? Find a guide? CONTACT US
KNOWLEDGE BASE
Mountain database, refuges, altitude sickness, avalanche dangers, equipment lists, gear rental, FAQs etc
Information & resources
The company
Contact us via our Contact Page
info@spanishhighs.co.uk

Spanish Highs Tours Ltd
Company Number 09960909 Registered in England & Wales

Head Office: 41 Axholme Drive, Epworth, DN91EL, North Lincolnshire, UK. Registered Office: 20-22 Wenlock Road, London, N1 7GU, England
© 2019 sierranevada.guide