Sierra Nevada (with or without) Guide
Routes, Maps & Inspiration for Self Guided Walking & Hiking in Spain's Sierra Nevada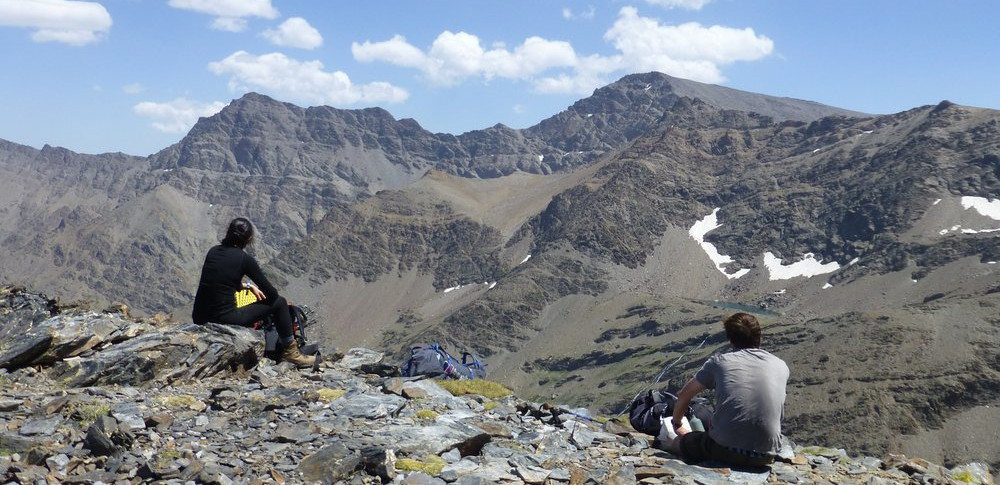 The Northern Flanks of the Sierra Nevada in a day or 2 day trek
Great trek in the Sierra Nevada on narrow tracks and trails in superb mountain scenery visiting secluded lakes and valleys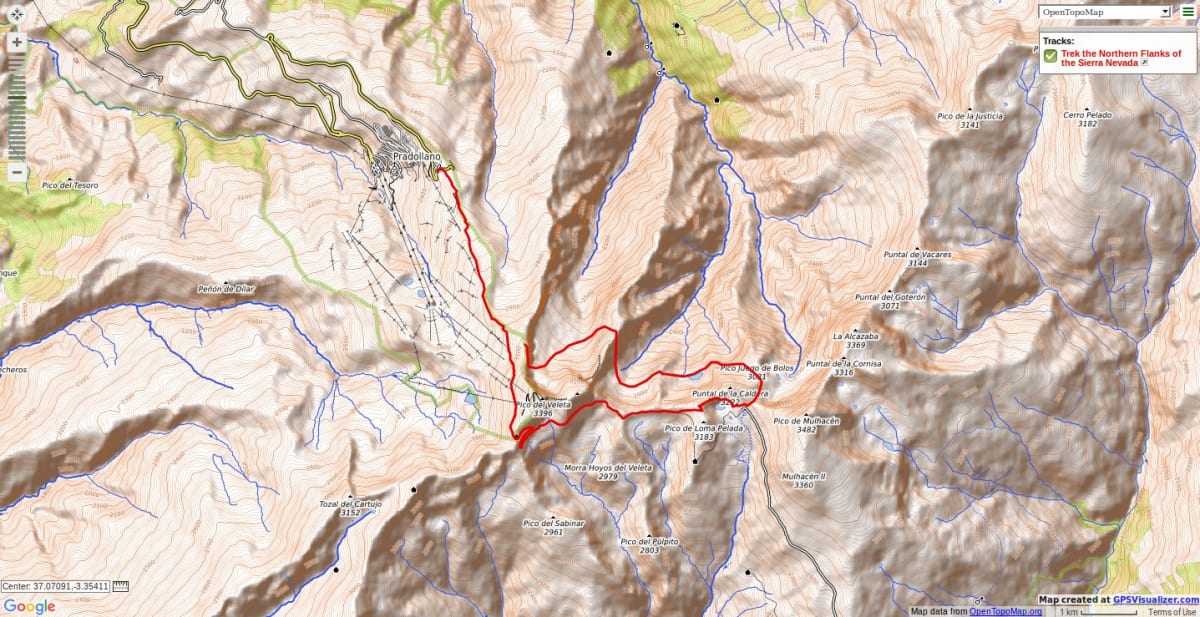 N.B This is an interactive map that opens up in new window
Access: Ski area via Granada. From the main Granada ring road (Circunvalación) follow the well signposted mountain road to Sierra Nevada (A-395). This leads to the main ski resort at Pradollano.
Start: Hoya de la Mora.  At km30 and just before entering the resort turn left following signs to Hoya de la Mora and Albergues de Granada. At km35 and at 2500m altitude, the road ends. There are car parks on either side of the road. This walk takes the summer bus service to Los Posiciones to start the route. Without this add another 1.5hr and 500m ascent to the route.
End: Los Posiciones/Hoya de la Mora
Route Description
If you make use of the summer bus (or ski lift) uplift to Los Posiciones de Veleta, then there is easy access to the start of this amazing route. Drop into the deep corrie of the Coral de Veleta via the narrow Veredon Superior path. Cross the valley floor on the remains of old moraines to the centre of the corrie.
Descend NE down a lateral moraine into an area of rushing waters and greenery. Cross the valley to the right on a faint track before starting up the zig zags that lead steeply up to the col before the peak of Veta Grande. This is a superb situation. The way ahead alongside the northern flanks of the Sierra Nevada ridge is seen from here, as are the Lagunas of Gabata and Laguna Larga.
The paths onwards are narrow and steep sided but hands are not necessary although a good head for heights might be. Another hour and the lakes are reached. A great place to wild camp if desired.
The narrow path continues crossing over the ridges of the Espolon de Puntal de la Caldera and arriving at a scrappy scree slope that must be ascended to reach the col near Juego de Bolos. Then onto the Collado de Ciervo before returning on the old road to the Collado de Carihuela and a return to the start point.
Wild camping suggestions - Laguna Larga, Laguna Gabata
Options - easy to extend this trip by taking in peaks along the way. The photos below show a 3 day trip outlined by this route in which we did many peaks adjacent to the route. A delightful trek!
N.B Please take note of National Park Rules and Regulations regarding Wild Camping
Recommended map: Parque Nacional de Sierra Nevada 1:40000 www.penebetica.com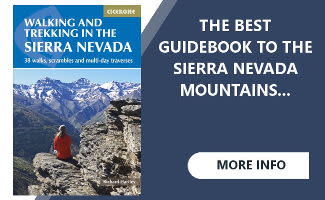 Want some help? Find a guide? CONTACT US
KNOWLEDGE BASE
Mountain database, refuges, altitude sickness, avalanche dangers, equipment lists, gear rental, FAQs etc
Information & resources
The company
Contact us via our Contact Page
info@spanishhighs.co.uk

Spanish Highs Tours Ltd
Company Number 09960909 Registered in England & Wales

Head Office: 41 Axholme Drive, Epworth, DN91EL, North Lincolnshire, UK. Registered Office: 20-22 Wenlock Road, London, N1 7GU, England
© 2019 sierranevada.guide