Sierra Nevada (with or without) Guide
Routes, Maps & Inspiration for Self Guided Walking & Hiking in Spain's Sierra Nevada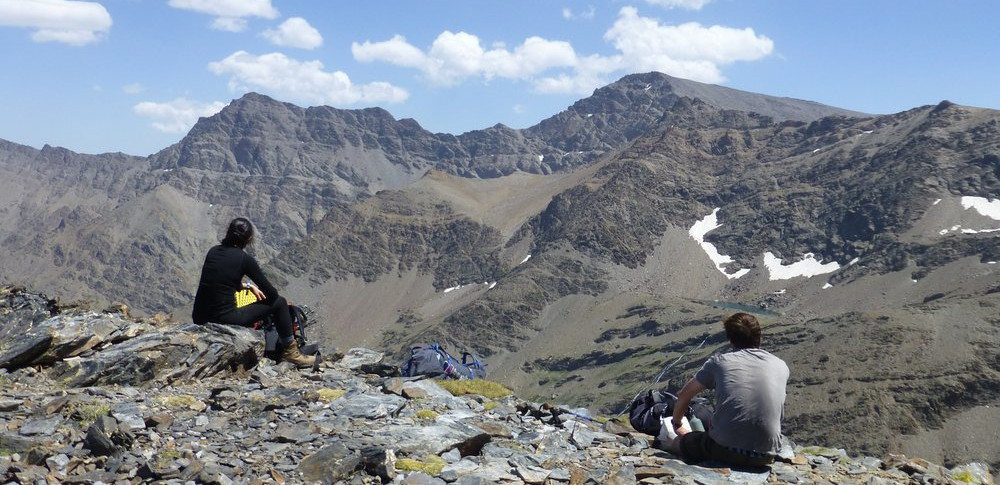 Los Tres Picos trek, Sierra Nevada wild camping
Climb the 3 highest peaks in the Sierra Nevada on this 3 day trek wild camping en route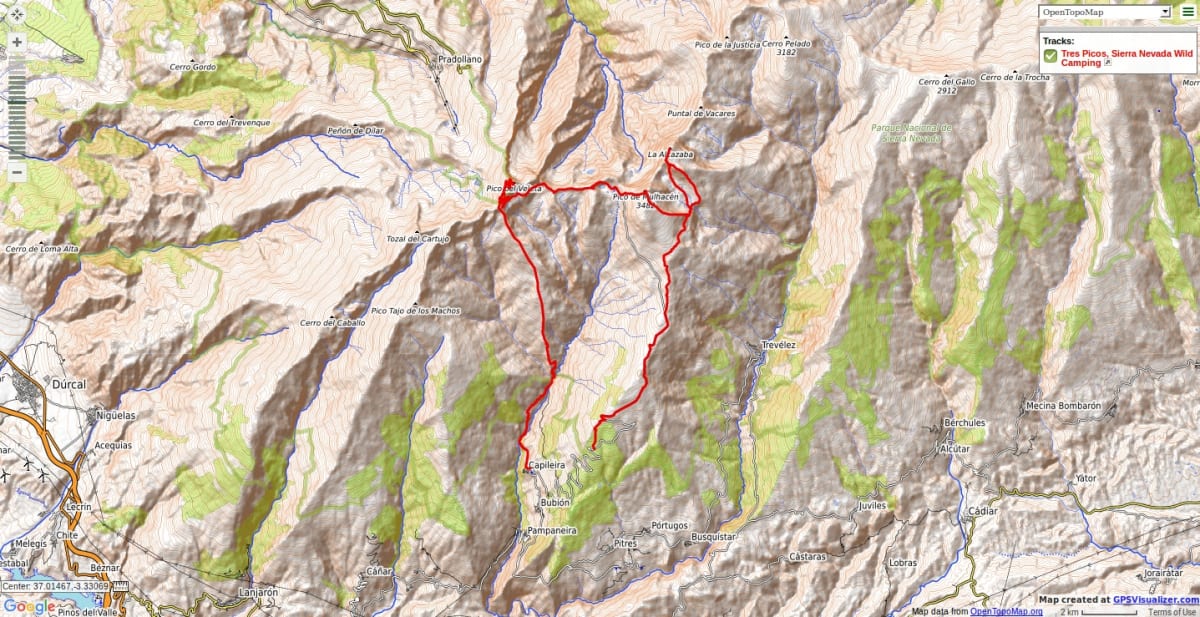 N.B This is an interactive map that opens up in new window
Access: Capileira
Start: Hoya del Portillo. Keep following the road through Capileira. In 5 mins you will pass horse riding stables. Immediately after take the right when the road forks. Follow this rough track for 15 mins. Park at the Forestry Station barrier and car park. Suitable for saloon cars with care.
End: Capileira
43km of high mountain terrain, 2570m ascent, 3 days, taking in the 3 highest peaks and staying overnight in incredibly wild mountain lakeside locations. Ideal trek for hikers and trekkers wanting to "get away from it all"!
Route Description
This trek can be done from May to November inclusive, but the summer months of June, July, August and September offer stable weather and lightest backpacking weights.
Day 1 - Siete Lagunas
Ascend from the high trailhead at Hoya del portillo, above the Alpujarras village of Capileira. Through pine forests and onto open country above. The challenge for the forthcoming days in obvious as you get great views to Mulhacen and Veleta. At the 3000m level take a traverse path round the eastern flanks of Mulhacen to arrive at the delightful valley of Siete Lagunas. Filled with cold clear mountain lakes and streams this is an idyllic location for the first nights stay.
Day 2 - Alcazaba and Mulhacen
Ascend a steep rocky couloir that brings you to the summit of Alcazaba. The magnificence of the north faces of the "big 3" are well seen from this point. Then its a return to the SE to the base of Mulhacen's E ridge which you can use to ascend to the highest point in mainland Spain, and the highest peak outside the Alps in western europe. From here drop down to camp by the tranquil lakes of the upper Rio Seco valley.
Day 3 - To Veleta and back!
Today an easy start to climb the last of "Los Tres Picos", Veleta. Then it's a hard afternoon downhill walk over Loma Pua and Pico de Sabinar to the village at Capileira.
N.B Please take note of National Park Rules and Regulations regarding Wild Camping
Recommended map: Parque Nacional de Sierra Nevada 1:40000 www.penebetica.com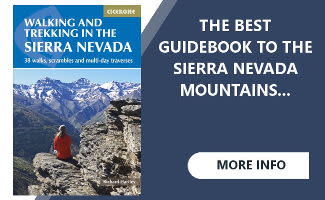 Want some help? Find a guide? CONTACT US
KNOWLEDGE BASE
Mountain database, refuges, altitude sickness, avalanche dangers, equipment lists, gear rental, FAQs etc
Information & resources
The company
Contact us via our Contact Page
info@spanishhighs.co.uk

Spanish Highs Tours Ltd
Company Number 09960909 Registered in England & Wales

Head Office: 41 Axholme Drive, Epworth, DN91EL, North Lincolnshire, UK. Registered Office: 20-22 Wenlock Road, London, N1 7GU, England
© 2019 sierranevada.guide